I grew up riding and wanting better tack and gear than I could afford. I would go in to the local saddle shops and drool over the fully carved saddles. Then I would watch the craftsmen in the back working on all kinds of leather goods until my folks would finally drag me out. I started doing leathercraft after going to camp in 1966. My dad taught me the basics and then because I wanted to make saddles, I looked for someone with that ability who would teach me. I was able to spend some time with a few different saddlemakers in Prescott and Phoenix while I was in high school and college. My focus was on horse gear for so many years, but I made a bunch of holsters and wanted to excel in that side of leather work as well.
Through the years I worked with and learned from many different craftsmen. I felt that I could learn from anyone who knew something that I didn't. I have gotten to know a lot of great folks who were willing to share the knowledge they had. I started Cedar Ridge Saddlery back in 1988 and worked it up to doing pretty well. I made a bunch of saddles and horse gear. But, once I met Gordon Davis, I adjusted my focus. I had one of his old catalogues and had read about him in a book on holsters back in the '80s. I was really excited that he had moved to a town nearby. We got to know each other and became good friends before I started working with him.
My son, Kevin began working for Gordon and I helped whenever I could while running my own business. After a couple of years of this, we moved Gordon's shop to Ash Fork and the three of us worked together for a while before Kevin went to college in Texas. Gordon and I worked side by side for six more years before he was forced to retire because of health issues. I learned so much from Gordon about this side of the leather industry that I fell more in love with it than making saddles. Now with a master's competence in so many different aspects of this field, I have chosen to spend most of my time making the gear shown on this website. When Gordon retired, I continued running the business under the Cedar Ridge Saddlery name. But, after several years I decided to ask Gordon if we could go back to Davis Leather. He was really happy to allow that.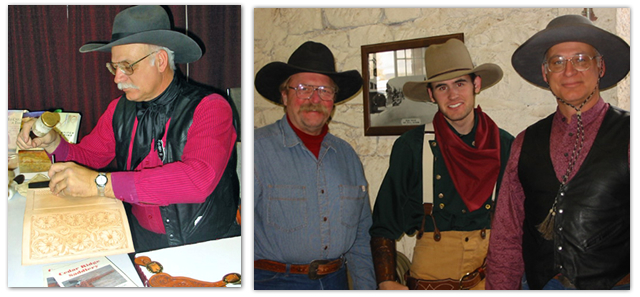 You can contact me either through email at info@davisleathercompany.com or by phone at 928-606-3423. I get mail at Davis Leather Company, PO Box 321, Ash Fork, AZ 86320. The shop is located at 213 W. Lewis in Ash Fork, AZ which is on I-40, 50 miles west of Flagstaff where Highway 89 heads south toward Prescott, exit 146.
Give me a call if you plan to stop by as I may be off running around. I don't always keep regular shop hours. Some days I may be in the shop working at 4 a.m. and leave in the afternoon. At other times, I might stay as late as 6 or 7 p.m. Sometimes, I get to go play for a day or two. If I am in the shop, come on by and we can talk leather for a while and work out the details for your project.
Dave Cox
Davis Leather Company
PO Box 321
213 W. Lewis Ave.
Ash Fork, AZ 86320
928-606-3423
info@davisleathercompany.com
Contact us using this online contact form: